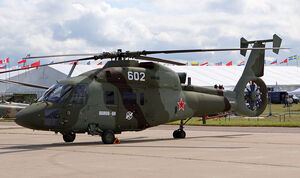 The
Kamov Ka-60 Kasatka
(
Russian
: "Касатка": "
Orca
") is a
Russian Air Force
helicopter that first flew 24 December 199
Design and development:
Edit
The Ka-60 has an estimated local military market of 200 units (Army aviation units, Border Police and Ministry of Internal Affairs).[citation needed] Intended as a replacement for the Mil Mi-8, the Ka-60 is to be used for reconnaissance, for transporting air-assault forces, radio-electronic jamming, for special-operations missions and for various light-transport missions. Variations for foreign sale are expected. Manufacture is to take place at Ulan-Ude.
[[[Kamov Ka-60|edit]]] VariantsEdit
[[]]EnlargeKamov Ka-60 at MAKS 2005*Ka-60 : Basic multi-role model.
[[[Kamov Ka-60|edit]]] OperatorsEdit
100 ordered [[|[3]]]
[[[Kamov Ka-60|edit]]] SpecificationsEdit
[[]]
Data from Jane's All The World's Aircraft 2003–2004[[|[4]]]
General characteristics
Performance