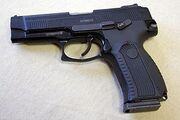 The 6P35 Pistolet Yarygina (PYa) or MP-443 Grach is the latest Russian standard military-issue side arm. It was developed in response to Russian military trials, which began in 1993. In 2003, it was adopted as a standard sidearm for all branches of Russian military and law enforcment, alongside the Gsh-18 and SPS.
Design Details
Edit
The PYa is a double-action, short-recoil semi-automatic pistol. Locking is performed by engaging a rectangular breech with the ejection port in a simplified Colt-Browning design, similar to that found in many modern pistols. The slide stop can be mounted on either side by the user. The manual safety is ambidextrous and is located below the slide, above the grip. The hammer is partially concealed at the sides to prevent catching on clothes and equipment. The magazine release is located in the base of the trigger guard. The front sight is formed as a fixed part of the slide and is non-adjustable. The back sight is adjustable for windage (dovetail type). Both feature white contrast elements. Magazine capacity is 17 rounds, fed from a double-column, single feed magazine.
Though the grips of the pistol are polymer, the weapon is largely made of metal (stainless steel for the barrel, carbon steel for the frame and slide).
It is chambered for the high-powered 9x19mm 7N21 cartridge, the Russian version of 9mm NATO, loaded to comparable pressure specifications. The 7N21 features an armor-piercing bullet with a tempered steel core. The weapon can also use standard 9mm Parabellum or 9mm NATO cartridges.
The pistol is named after ist designer, Vladimir Yarygin, who had earlier specialized in designing sport pistols. The Yarygin PY employs a simplified version of the century-old Browning short recoil system.
Adoption in Russian forces
Edit
As of 2008, it was supplied only in small numbers to selected special forces units, presumably those in the North Caucasus. In Oct. 2008, the Russian interior minister planned to equip more Russian police with PYa pistols. but due to financial problems and the fact that the Makarov pistol is so plentiful in Russia, the Makarov remains as primary police service pistol in Russia years later.