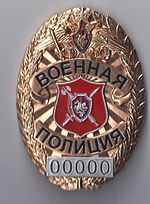 The Military Police of Russia
(Russian: Военная полиция России) is a law enforcement body within the Russian Armed Forces, which is know by official name as
Main Directorate of the Military Police
(Главное управление военной полиции Минобороны РФ), and it is operated by the Russian Ministry of Defence.
The Chief of Military Police is ex officio the First Deputy Minister of Defence. The current Chief of Military Police is Major General Andrei Nechayev, who is replacing Lieutenant General Sergey Surovikin since October 2012.
During Russian Empire The Special Corps of Gendarmes took the functions of Military police, until 1917.
The Soviet Armed Forces did not have any units technically named 'military police'. Two separate agencies handled military police duties on a day-to-day basis. The Komendantskaya sluzhba or "Kommandant's Service" of the Soviet Army wore a yellow letter "K" on a red patch on the sleeve to indicate their membership of this service—the "de facto" army police. A second organisation called the Traffic Regulators existed within the Rear Services. Traffic Regulators served to control military highway and motor vehicle traffic. Traffic Regulators also wear a white painted helmet with red stripes to indicate their status and either an armband ar patch with the Cyrillic letter "P" (R).
The idea to create military police in Russian Federation came from the second President of Russia, Vladimir Putin, who authorized his then Defence Minister, Sergey Ivanov to establish such an organization. In 2005, human rights ombudsman Vladimir Lukin wrote a special report about abuse in the armed forces and proposed measures including the creation of military police.
On 21 April 2010, when Minister of Defence Anatoly Serdyukov announced further steps to establish military police, pursuant to the President's directive. Russian President Medvedev is a strong proponent of the creation of military police; one of its main objectives would be to combat Dedovshchina. On April 2012 Chief Military Prosecutor Sergei Fridinsky said Russia's military police will be instituted in two stages: first, the integration of the relevant Defence Ministry services and second, granting the new agency investigative functions.
According to Russian media reports, up to 20,000 service members may be assigned to serve as military police.
On 19 November 2012 it was reported by Major General Andrei Nechayev to RIA Novosti that the military police have already been created and are functional within the scope of tasks.The Defence Ministry has until the end of 2014 to complete formation of the new service.
Community content is available under
CC-BY-SA
unless otherwise noted.