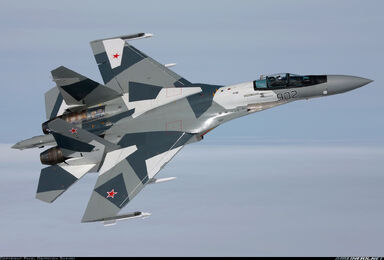 From the mid-2000s, Sukhoi and its KnAAPO division further developed the Su-35 concept and improved it with additional cutting-edge technologies eyeing potential foreign sales,[8][27][28] marketing it as Su-35BM (Bolshaya Modernizatsiya, or "Big Modernization").[29][30] The experiences of 2008 South Ossetia war has also opened its prospects to replace ageing Su-27 fighters in the Russian Air Force's fleet. The modernized Su-35 will serve as an interim design until the fifth generation Sukhoi PAK FA fighter enters service.[31] The modernized Su-35 is considered to be 4++ generation by Sukhoi.[27]
The modernized Su-35 was presented at the 2007 MAKS Airshow. The new features of the aircraft include a reinforced airframe with a more extensive use of titanium alloys, thus increasing the airframes durability to some 30 years or 6,000 service hours,[8] a reduced radar signature from the front,[27] and an improved passive electronically scanned array radar. It is now capable of supercruise.[33] The aircraft featured many other upgrades to its avionics and electronic systems, including digital fly-by-wire and a rear-looking radar for firing semi-active radar homing missiles. The new Su-35 omits the canard andspeedbrake; to maintain manoeuvrability equal to or greater than canard-equipped fighters, the Su-35 uses the new 117S engine with fully rotating vectoring thrust nozzles.[34][35]
The new Su-35 version first flew on 19 February 2008.[27] On 14 April 2009, a Su-35BM prototype crashed during a high-speed ground test. The test pilot escaped unharmed.[36] According to Sukhoi, the fighter's brakes failed during landing, resulting in the speeding aircraft going off the runway and the left engine catching fire.[37] On 18 August of the same year, the Russian Defense Ministry announced a contract for 48 Su-35S (Serial) fighters along with 16 Su-27/30 fighters to be delivered by 2015.[38][39] Sberbank agreed, in September 2010, to provide funding for the Su-35 program.[40] In November 2009, Sukhoi started manufacturing on the first serial aircraft.[41] On 14 October 2010, Sukhoi announced that the first production Su-35S had completed general assembly and that the first aircraft would be delivered to the Russian Ministry of Defense by the end of the year.[42] In May 2011, the first production model Su-35S was flown for the first time.[43] In 2009, Sukhoi estimated that the Su-35 would be manufactured at a rate of 24 to 30 aircraft each year from 2010 to 2020.[44] By March 2012, four series Su-35S aircraft had been completed.[45] Russia is to receive 48 Su-35S aircraft from 2011 to 2015.[46]
On 4 April 2012, the Su-35 completed 500 test flights.[47]