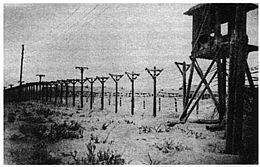 The Vorkuta Gulag was a Soviet era prison camp located in the Pechora River Basin, in the Komi Republic, part of the Siberian region of Russia. Vorkuta Gulag was established in 1932 to exploit the resources of the Pechora Coal Basin, the second largest coal basin in the former USSR.  The city of Vorkuta was established to support the camp. There were approximately 132 sub-camps in the Vorkuta Gulag system during the height of its use in the Soviet prison system.  from 1939, Polish prisoners were held there until Russian changed sides and joined the Allies after being attacked by Germany.  The camp was then also used to hold German POWs captured on the Eastern Front in WWII as well as those deemed to be dissidents and enemies of the state during the Soviet eral.
Although the camp was closed in 1962 there are still large numbers of Soviet citizens who were former prisoners still living in Vorkuta, originally due to their former status as enemies of the state, then as a result of their poor financial situation.
In the Vorkuta uprising July 1953 inmates at Vorkuta who were forced to work in the region's coal mines went on strike.  The mostly passive strike which lasted approximately two weeks was put down on August 1, when camp chief Dervyanko ordered troops to fire at the strikers resulting in the deaths of 53 workers, although estimates vary.
There were American service members from various eras who were illegally detained in the Soviet gulag system including Vorkuta.  Some fell into the hands of the Soviets during the end of WWII and during the Korean War, others were kidnapped from the streets of East Berlin during the Cold War.
Homer Harold Cox was an American Military Policeman assigned to the 759th Military Police Service Battalion in West Berlin.  On 6 Sept. 1949 he was drugged and arrested while off duty, in the Soviet Sector of East Berlin.  He was imprisoned at various Soviet prison camps including Vorkuta Mine No. 4 and Vorkuta Mine No. 7.
On 29 Dec. 1953, he was returned to US custody in Berlin along with fellow prisoner US Merchant Marine Leland Towers.  Cox would die of pneumonia less than a year later on 27 Sept 1954 in Lawton, Oklahoma.
Two other illegally detained Americans were Private William Marchuk, kidnapped in East Berlin in 1949, and expatriate John H. Noble, 31, of Detroit, Michigan who was arrested by the Red Army in Dresden, Germany in 1945.  Many Americans were never repatriated.
Community content is available under
CC-BY-SA
unless otherwise noted.